Windfarm Site Welfare Provision
Our Security Vault Cabins are fabricated of heavy gauge steel and fitted with heavy duty doors and Security Window Shutters. All Units are finished to a very High Standard and complete with a vinyl plasterboard wall finish.
Units can be modified to meet customers requirements, i.e. Canteens, Drying Rooms, Offices, Toilet/Shower Blocks etc.. They will be complete with full electric spec i.e. double sockets, wall heater, undersink water heaters, fluorescent lights and fuse board etc.. Units will then be sandblasted and sprayed to Clients spec.
Containers – WindtranZ's Steel Storage Containers are ideal for storage at your company, construction sites, supermarkets or trade fairs etc.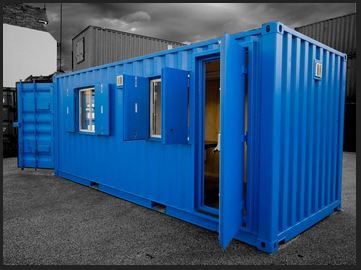 Chemical Toilets – We have a Large Range of toilets to cater for all requirements. We have Wheelchair Accessible toilets and Superloos which contain Flushable toilets, wash hand basins and urinals. No mains connection required.
These lockable Anti-Vandal Toilets are suitable for sites which have mains connection, they are extremely durable and come with a standard toilet, cistern, wash hand basins and water heaters.
Converted Units – Our Containers can be individually modifed/converted to suit client requirements and are finished to the highest standards to meet health, safety and fire regulations.
Site Fencing – we carry out site perimeter fencing and security.